Hi everyone! As most of you know, RDM 8.0 has been out since November 2012. This
latest version
, which took a lot of hard work (and lots of coffee!) features
a brand new customizable UI
, along with full integration of MySQL data source, Amazon Ec2 and XenServer consoles. In just a few months, we've received a lot of positive feedback on RDM 8.0 -- especially on our
forum
-- and so we started asking ourselves:
why are some RDMers still using version 6 or 7?
So that's what we asked
last month
in our February poll.
RDM 8.0 new UI
The response we received from those who've stuck with RDM 6 or 7, is that they don't like the new "ribbon-style" UI in RDM 8. Good news, you can upgrade to RDM 8.0 and enjoy all of the cool new features, but still keep the classic UI that you like in RDM 6 and 7! It only takes a few seconds to do this. Here's how: Simply go to the
File
menu, click
Options
and switch back to the
classic UI
.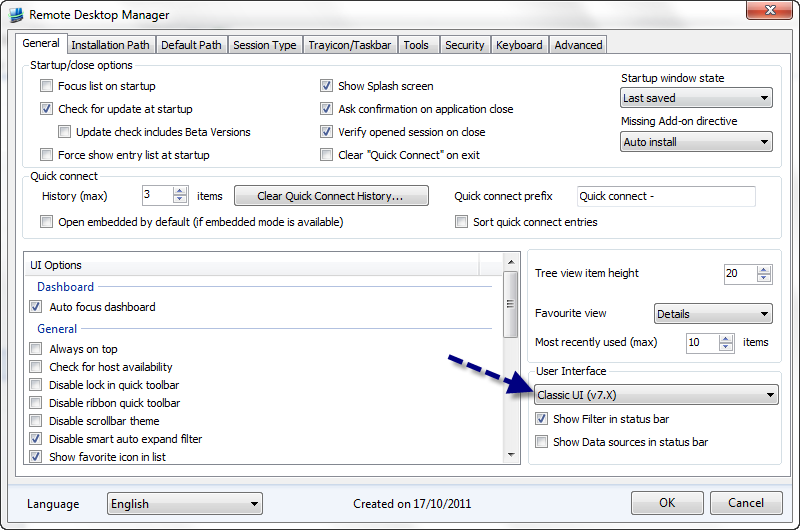 And once you switch to RDM 8.0, you can start having all kinds of fun customizing your unique UI. We're currently working on a tutorial for this, and I'll post it as soon as it's ready.
The Winners are!
And of course, here are this month's winners of an RDM Enterprise license, and how they responded to the poll question: Jeff Laird (blog), Klopot (blog), Manuel E. Frick (Facebook), Mark McNaugton (Facebook). Congratulations to all of you! I'll touch base with each of you – or, feel free to send me an email at
mtrottier@devolutions.net
to claim your prize. And in just a couple of days, I'll be posting the March poll – stay tuned! Thanks