As you may know, we've developed a tool called
Devolutions Localizer
, which allows users to translate RDM into different languages. So far, we currently have an English, French, German and Russian version available, and other languages are coming soon – including Chinese! On behalf of Devolutions, I'd like to thank Caiddy Sun, a RDM user, for his amazing Chinese translation efforts. We hope you enjoy your $500 "most valuable contributor" award, plus your free RDM site license. Here's a peek at what Caiddy Sun and other have been up to. Admittedly, I can't read a word, but it looks really impressive!
Translation Contest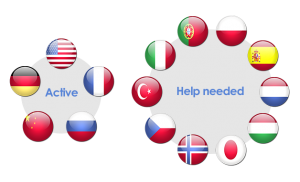 We're hard at work making RDM available to IT pros around the globe in their native language. We currently have customers in more than 80 countries – and yes, that's a lot of translating to do. Why not lend your talents? The Devolutions Localizer tool is very easy to use. And every time a language translation is complete, we'll award the most valuable contributor $500 and an RDM Site License. The second and third most valuable contributors will be awarded $200 and $100 respectively, plus they'll each receive an Enterprise Edition version of RDM. Right now, we especially need contributors for Italian, Spanish and Dutch. If you'd like to learn more or contribute, please visit:
https://devolutions.net/home/contribute
Thank you in advance to everyone who is, or will, help make RDM more accessible and available to IT pros around the world!